Well connected to criminal "authorities," scammers lure suckers into fraudulent projects Eternity Business and Danvel Group with their swagger. Whole truth about Nazar Babenko, Mykhailo Romanenko, Eternity Business 'neobank' and Danvel Group.
During the Russian-Ukrainian war that led to the impoverishment of the Ukrainian population, various calibre fraudsters surface like foam during a storm. These dimwitted scams boldly operate in plain sight.
Let's focus on a certain Dmitry Khitsenko. This 23-year-old guy, known on TikTok and Instagram under the pseudonym Khitsa, caught the attention of media last year by promoting his luxurious car collection in online media.
Fraudsters Nazar Babenko, Mykhailo Romanenko, The Eternity Business and Danvel Group
Scammers often entice their victims into their networks with their ostentatious displays. Couture clothing, luxury cars, vacations at lavish resorts, extravagant feasts at expensive restaurants. They hint to envious simpletons: "Do you want to be like this too? Give us money, and we'll teach you!" And there are plenty of trusting citizens who, in pursuit of the golden calf, part with their last savings.
Dmitry Khitsenko operates in a similar manner.
Dmitry Khitsenko lures not very smart people into his Telegram channel. It's called "The Guy with the Lambo." Khitsenko's feed is full of reprints with screenshots of news from the world of cryptocurrencies. Our hero's Lamborghini is present, along with short videos featuring him saying things like, "Just closed a successful deal, now chilling by the pool." But the main purpose of this whole scheme is to sell access to a so-called private channel, where Dmitry Khitsenko promises to show how to make insane profits through cryptocurrency trading.
On websites dedicated to dubious ways of making money online, reviews have already started to appear, claiming that the founder of the "The Guy with the Lambo" channel is a fraudster. For example, some unequivocally state that this individual sells fake signals (predictions) to people eager for easy earnings. He also pulls them into networks of "shadow" cryptocurrency brokers who give him a portion of the money extorted from the "suckers."
Dmitry was a small fry. A juvenile, who had infiltrated the ranks of hefty cryptocurrency scammers. We "ringed" them and observed how they grew, fattened, and became bolder.
Eternity Business, the Not-Quite-a-Bank
35-year-old Mykhailo Romanenko whitewash campaign included an interesting release. The press release seriously claims that Mykhailo Romanenko "introduced a new level of global banking service" by launching the "new neobank" Eternity Business in London. Supposedly, for this achievement (among others), this individual "has received a number of awards from European organizations," including the "International Investment Congress" and the OSCE (specifically the International Diplomatic Mission).
The "OSCE" that awarded some kind of paper and "identification card" to Misha Romanenko has absolutely no connection to the Organization for Security and Cooperation in Europe. None whatsoever. In short, it is a group of fraudsters linked to organized crime.
As for the "International Investment Congress", it's almost the same story but more expensive. The company, with addresses in Munich, Berlin, and Monaco, according to their "about us" section, appears to be created and managed by individuals with a Soviet background. The congress website, based on Google tag history, was developed in Ukraine and is maintained from within its territory.
It is safe to assume that for a certain amount of money, anyone can claim an award in any category at the International Investment Congress.
Mikhail Romanenko's "neobank" Eternity Business is essentially a pseudo-bank
In an English-language source (with placement costs starting at $300), the full name of this absurdity is listed as Eterninty Business Limited. It is registered in London, United Kingdom.
According to the UK registry, Eterninty Business Limited was created on March 24, 2023, by a 35-year-old resident of Chernivtsi named Mykhailo Romanenko. During registration, the founder valued the company's authorized capital at £100 million (or 4.63 billion Ukrainian hryvnias). Later, an Israeli partner named Leo Levin joined the company.
Do not be bewildered by the enormous size of the authorized capital. It does not mean that Mikhail Romanenko took £100 million out of his pocket and invested it in the company. The authorized capital consists nominally of 100 million ordinary shares, each valued at £1 by Romanenko. Mikhail Romanenko may not contribute a single penny to the authorized capital, and no one would suspect that the company is a shell. Naturally, this will go unnoticed until British fiscal authorities conduct an investigation. However, this is unlikely to happen earlier than a couple of years after the company's registration. In other words, not anytime soon.
Let's look at the activities listed during the registration of Eterninty Business.
These include the activities of open investment companies, financial market administration, fund management, and financial management. There is no mention of the word "bank" here. And it cannot be.
Eterninty Business is structured as a Private Company Limited by Shares, LTD. According to the UK Companies Act 2006, this is the lowest level of liability. Such a structure does not qualify for a banking license.
In other words, Eterninty Business cannot be considered a bank, even with the prefix "neo." The astronomical nominal authorized capital is nothing more than an attempt to give the facade an air of respectability.
"The uniqueness of the Eternity Business Bank lies in its exceptional investment product, as well as its specialized web platform for interaction," as stated in the aforementioned press release issued regarding the fake organizations' award to Mikhail Romanenko.
Let's examine this "exceptional product."
We visit the Eternity.business website. Immediately, suspicions arise that this is not a "neobank" but rather a cult or "community."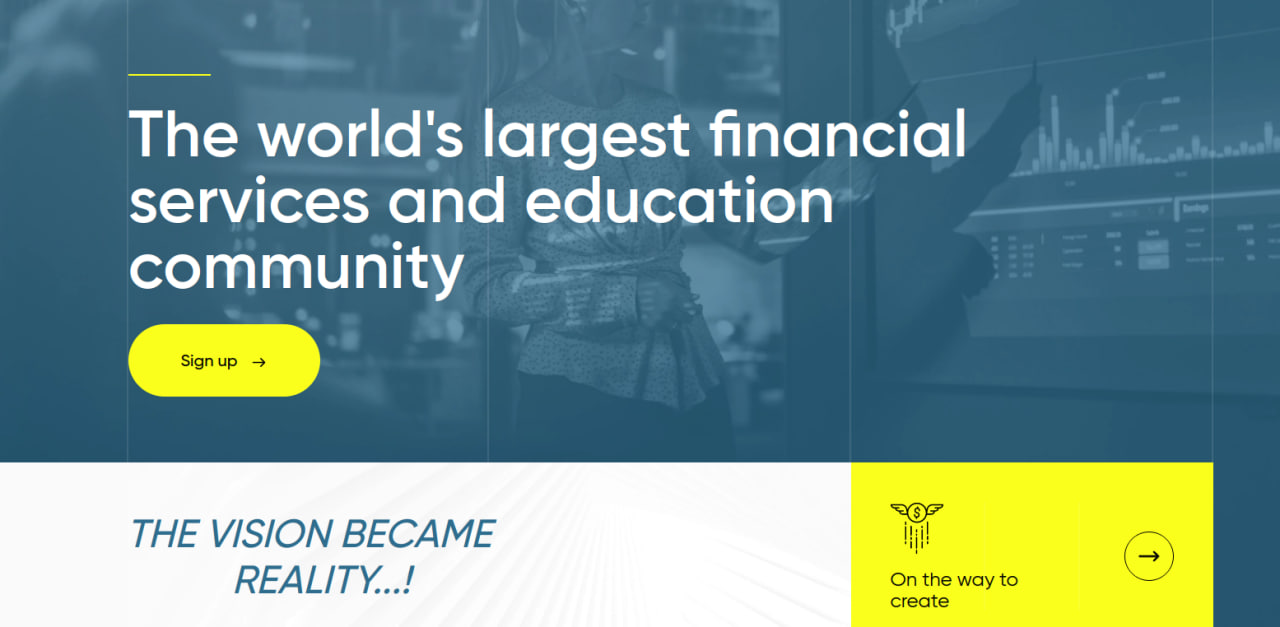 Well, I register and enter my "account." And what do I see? I see another fraudulent Forex scheme.
The gullible client is expected to "invest," or rather, hand over their money to Mikhail Romanenko and his accomplices. Supposedly for management. There are four options for "deposits" to choose from: from $100 (where 1 ET is quoted for slightly more than a dollar) to $10,000. Accordingly, they promise the naïve investor a return ranging from 36% to 60% per year. In other words, the more you invest, the more they promise you.
And it is highly unlikely that they will deliver. Moreover, there is a significant probability that these "neobankers" will gain access to the investor's bank accounts and cryptocurrency wallets and leave them with nothing.
The publication on a resource hosted on the Russian domain zone is also interesting. It states, among other things, that
"the history of Danvel began in 2014, and under the leadership of Nazar Babenko, a strong team of professional traders was created."
Interestingly, in the waves of PR for the company (or group of companies) Danvel, Mikhail Romanenko is almost never mentioned in the context of Nazar Babenko. And vice versa.
A year earlier, in 2021, there were a bunch of paid articles on English-language websites claiming that "the investment management company Danvel Finances, located in Cyprus, is leading the adoption of bitcoin and cryptocurrencies, effectively investing clients' funds in digital assets". Unlike Romanenko, Nazar Babenko is not mentioned at all in this "news piece."
But he is mentioned in other English-language "news pieces" where Romanenko is absent but a completely different "partner" emerges. For example, in this article from October 5, 2022, alongside Babenko, Igor Kotov is listed as a member of the Danvel board of directors.
Whoever is featured as the "boss" of Danvel, there are common features in all the paid publications that mention this company. Firstly, the luxurious lifestyle of the figurehead (whether it's Romanenko, Babenko, or Kotov) is emphasized. Secondly, the success of Danvel and the uniqueness of its "products" are highlighted. Thirdly, there are repeated references to the Instagram profiles of the figureheads and Danvel itself, where visitors are once again confronted with luxury and lured into joining Danvel.
If a "client" decides to "invest," they end up on the Danvel website. Here, they are persuaded with beautiful words that the guys have a "formula for financial success" through which they will become wealthy without wasting their precious personal time. "We are the ones leading the revolution of tomorrow," the website proclaims. "Join us!"
However, unlike Eternity Business, it is not easy to simply register and start distributing money to these scammers. To register, a "referral code" from an existing member of Danvel is required.
Despite the ostentatious respectability, Danvel's affairs are far from brilliant. At least, that's what the statistics from SimilarWeb suggest: the web platform danvel.com went from 37.3 thousand visitors in March 2023 to 1.3 thousand visitors in May.
London Appearance and Connections to the Koshyak Group Leading to the Office of the (Ukrainian) President
To the best of the author's knowledge, the offshore web of Danvel began with a company registered in Cyprus with the same name. Currently, Nataliia Mekenia is listed as the CEO and owner of the Cypriot Danvel. In Ukrainian registers, Nataliia Ivanovna Mekenia was mentioned as the head of companies in the orbit of Hennadiy Korban – a former partner of the controversial oligarch Ihor Kolomoisky and the mayor of Dnipro, Boris Filatov. Among them is KUA "Slavutich-Kapital."
Nataliia Mekenia is also listed as the "authorized person" of the charitable foundation "Danvel Group" (registered address in Dnipro). The founders of the foundation are the inseparable "crypto-investors" Nazar Babenko Konstantynovych and Igor Viktorovych Kotov.
In the second half of 2021, two more "Danvels" appeared: Danvel Finances OÜ (Tallinn, Estonia) and Danvel Education Ltd (London, United Kingdom). Mykhailo Romanenko is listed as the sole beneficiary of both companies. Recently, on June 27 of this year, Danvel Education was liquidated due to chronic non-submission of reports.
Currently, according to the information provided in the website's "footer," the internet platform of the Danvel group – danvel.com – belongs to the British company Danvel Ltd.
But in the contact information, Danvel Corp from the Marshall Islands is listed.
There is hardly any information available about the latest. As for the British company Danvel Ltd, it was registered on November 2, 2022, in London. The nominal share capital is £50 million, and the sole beneficiary is Mikhail Romanenko.
On March 23 of this year, along with Eternity Business Limited, Mikhail Romanenko registered another London-based company – Danvel Group Limited (nominal share capital – £50 million).
In Ukraine, the "underground crypto-billionaire" Mikhail Romanenko is a co-owner of several commercial structures. LLC "Exa" (Chernivtsi) specializes in intermediary trade of fuels, ores, and metals. LLC "Orient-Dym" (Dolyna, Ivano-Frankivsk region) trades in timber, and LLC "Provector Group" (Kyiv) deals with fruits and vegetables.
LLC "Lyudy dlya Lyudey" (People for People), registered on June 10 of this year, specializes in web portals. LLC "YeVidbudova," founded on June 29, 2023, strangely duplicates the name of one of the electronic services within the national program "Digital State," developed at the initiative of the Office of the President.
Recently, MP Maksym Buzhansky stated that the claim that illegal call centers in Ukraine are robbing Russians is a myth. Referring to law enforcement data, the deputy assures that the most frequent victims of telephone scammers are displaced persons who are tricked into giving away money received through the "ePidtrymka" program. Remember this moment, it is important.
Mikhail Romanenko is also the founder and director of two public organizations – "Ukrainian Association of Volunteers" and "Association WEB3 Ukraine," as well as the charitable foundation "Volunteer Initiative of Ukraine."
Based on his Facebook page, it seems that in the public sphere, he focuses on assisting internally displaced persons and promoting WEB3.0 ideas.
The scope of Mikhail Romanenko's philanthropy looks modest compared to the rumors he himself spread about his alleged $1.5 billion fortune.
Mikhail Romanenko does not write about his immense wealth at all, and if it weren't for a couple of posts, dated 2021, one could conclude that this person has no connection to Danvel, and someone simply stole his identity.
Romanenko's partners in the adventure of "Danvel" – Nazar Babenko and Igor Kotov – are equally mysterious figures.
Nazar Babenko accidentally gained nationwide fame back in 2015 when he was barely 21 years old.
On September 4, 2015, in Dnipro, a student of the Dnipropetrovsk University of Internal Affairs ('Police academy'), Nazar Babenko, along with another young man (presumably Igor Kotov), parked a Porsche Cayenne across the parking lot of the "Privat-Auto" car service. After receiving complaints from customers, the deputy director of the car service asked the young men to move the car. They brutally attacked him.
A serious scandal erupted. The press took an interest in Nazar Babenko. Local law enforcement officials solemnly vowed to punish Babenko and his companion. However, Babenko's Porsche Cayenne continued to frighten the ordinary people of Dnipro with reckless driving on the wrong side of the road. In the end, the young man went unpunished.
How the two great "scammers" – Mikhail Romanenko from Chernivtsi and Nazar Babenko from Dnipro – got acquainted is unknown to the author. There is no evidence of any connection between these individuals in Ukrainian registries, as if they had no common business. However, there is one clue in the British registry.
According to the Companies House records, on June 11, 2019, a company called EXA Consulting Ltd was registered in London with a share capital of 1 million pounds. The registration document indicates that the shares of the company were evenly distributed between Nazar Babenko from Dnipro and the firm EXA Limited Liability Company from Chernivtsi. The latter is the LLC "Exa," co-owned by Mikhail Romanenko. The British "Exa" was headed by the director and co-owner of the Ukrainian company, Stanislav Adzhiev. Two years later, EXA Consulting Ltd was forcibly liquidated due to non-filing of financial statements.
The connection between Babenko and Kotov is more apparent. Babenko's full name appears together with Kotov in two legal entities registered in Ukraine. In addition to the "Danvel Group" charitable foundation, which is managed by a manager from Korban's orbit, there is also an advertising agency called "Bloggers." Igor Kotov is the director of this company.
From Kotov, there is a connection to more interesting characters.
Igor Kotov is a co-founder of the Public Organization "Sports Club 'Leon'." Among the other founding fathers of this notable public organization is Mikhail Anatolievich Koshyak.
Mikhail Koshyak, the President of the Judo Federation of Ukraine, is a very influential businessman in Dnipropetrovsk and a member of the regional council from the pro-Russian Opposition Platform – For Life party.
It is rumored that Mikhail Anatolievich, who was a judo coach and a master of sports of the USSR at the time, began his business career in the turbulent 1990s as part of a criminal group led by Narik (Alexander Nalekreshvili, who later changed his surname to Petrovsky). Over time, Mikhail Koshyak formed his own gang under the conditional name "Leon."
During that period, Mikhail Anatolievich developed a close relationship with Major General Nikolai Astion of the Ministry of Internal Affairs, who supervised organized crime in the Dnipropetrovsk region. They became related by marriage – Nikolai's son, Vasiliy Astion, became Koshyak's son-in-law. The Astion-Koshyak business group was formed.
Mikhail Koshyak has close ties to the aforementioned Gennadiy Korban. In fact, Koshyak served as the "enforcement wing" of the Privat Group, led by oligarch Ihor Kolomoisky, which included Korban. During the Revolution of Dignity, Mikhail Koshyak was on the side of Yanukovych's gang: the fighters from "Leon" violently beat activists of the Euromaidan in Dnipro. When the revolution succeeded, Koshyak nearly joined the Right Sector but ended up in custody.
Koshyak was arrested in connection with the case against his associate Gennadiy Korban. According to Segodnya newspaper, Korban was accused of crimes committed during his tenure as Deputy Chairman of the Dnipropetrovsk Regional State Administration, including the abduction of the Chairman of the State Land Agency, Serhiy Rudyk, and the Director of the Corporate Rights and Legal Support Department of the Dnipro City Council, Oleksandr Velychko, as well as the creation of a criminal organization and embezzlement from the "Country Defense Fund."
However, the case fell apart. Mikhail Koshyak even sued the government of Ukraine in the European Court of Human Rights and won.
Nevertheless, Mikhail Anatolievich's inclination towards raiding has led to constant criminal proceedings against him, which, unfortunately, have not reached a logical conclusion to this day. Some of these cases involve the EDRPOU code 38677966, belonging to the "SK Leon" company, whose co-founders are Igor Kotov and Mikhail Koshyak. But the prospects of these criminal cases are very uncertain. The previous case against Korban and Koshyak fell apart thanks to the reliable defense of lawyer Andriy Smirnov. At present, Andriy Smirnov works as the Deputy Head of the Office of the President of Ukraine, overseeing legal policy, law enforcement, and the judicial system.
Dnipro, the birthplace of most of the characters in this story, has firmly established itself as the capital of fraudulent call centers in Ukraine. And we're not just talking about schemes like "your son is involved in an accident" or "you're receiving a call from the bank," but also about scams involving fictitious trading of cryptocurrencies and fiat currencies in the FOREX market (Danvel and Eternity Business show signs of such fraud). Anonymous sources have repeatedly mentioned Mikhail Koshyak among the beneficiaries of such schemes. And the involvement of his protégé, Kotov, in the affairs of Romanenko and Babenko might indirectly confirm these rumors.
An intriguing detail is that the inseparable "crypto investors" Igor Kotov and Nazar Babenko are also registered as individual entrepreneurs (first, second). Their activities include the KVED code 82.20 – "call center activities."
Another question is the extent of their involvement and share within the Office of the President Zelenskiy.